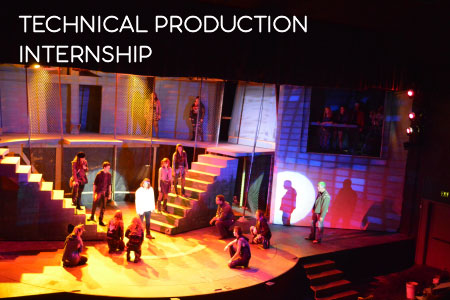 PacRep mounts 9 to11 productions each season. Technical Production interns are charged with providing technical and logistical support, especially in the areas of lighting and sound, during pre-production periods for each show. Technical Production interns are used 40-60 hours per week during peak periods (usually 2-3 weeks at a time), and contribute part time in scenic construction at other times. Interns must be available nights, evenings and weekends during peak periods. Recommended for students with broad-based knowledge in electrics, sound, and scenic construction who are seriously considering careers in any areas of technical theatre. Any special skills such as welding, scenic artistry or sewing skills should be mentioned in your application.
CLICK HERE FOR THE APPLICATION FORM
Responsibilities
Technical Production interns shadow current staff members and assist during the company's repertory seasons. Using the initial production time as a training period, interns later work more independently. Tasks may include but not be limited to:
Participation in lighting hang and/or sound installs
Participation in scenic construction and painting
Participation in technical crews for season productions
Transport materials and tools from warehouse storage to load-ins and strikes
Assist with repairs or changes of technical equipment or facilities throughout the run of the show
Assist with renting and pick up of additional equipment for productions when needed
Attend organizational meetings for all productions
Experience/Background Requirements
Technical theatre classes at the college level or equivalent
Two to three years experience in theatrical lighting/sound set up
Strong interest in history, art history, and research encouraged
Proficient use of hand tools and smaller power tools
Competence in Microsoft Word or better a plus
Special Issues:
Due to the flexible hours, and rehearsal locations, production management interns must own or have access to a car.
Dates/Hours
Hours and dates are by arrangement with PacRep production management team. Minimum participation is 6 weeks.
Special Events
Interns are expected to work on large company special events such Opening Night Parties, the annual dinner Auctions, or large patron events.


APPLICANTS SHOULD SUBMIT:
Application Form
Cover letter
Resume
Letter of recommendation

APPLICATION INFORMATION

Applications are considered as they are received.

Required materials (listed below) should be submitted online or sent to:

PacRep Internships
P.O. Box 222035
Carmel, CA 93922.

The completed application form
A cover letter describing your interest in this program
Your resume
One or more letters of recommendation from those who have supervised your work
Writing samples or portfolios are required for some internships
Please review the detailed information for your area of interest
Email and/or telephone inquiries are welcomed.
Call Stephen Moorer, Executive Director at 831-622-0700 x104 or send email to
contact@pacrep.org