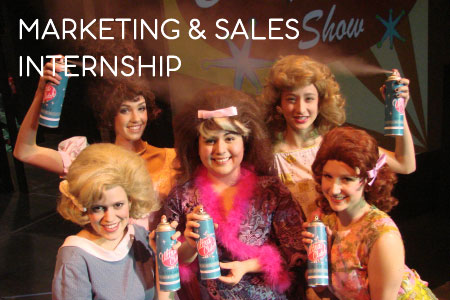 This department is responsible for generating approximately 60% of the organizational budget. Sales and Marketing activities encompass ticket services, publications, public relations, and community outreach. The intern should have strong communication, organization, writing and problem solving skills. One should also be able to initiate and follow through on projects while at the same time, being able to accept guidance. An intern will work both individually and as part of a team. Interns are included in departmental meetings and strategy sessions. Recommended for those interested in sales and marketing careers in any field, and in management careers in the non-profit sector.
CLICK HERE FOR THE APPLICATION FORM
Responsibilities
Tasks will include but not be limited to:
Assist marketing staff in research and data management of target audiences
Key player in launching and maintaining a speaker's bureau
Distribution of marketing materials through mail and personal contacts
Assist ticket services department in subscription processing and will call ticket booth
Design, edit, proof, and contribute writing to articles, marketing plans, newsletters and other publications
Data management in marketing database
Telemarketing and Sales
Skills
A creative eye, excellent communication skills, detail oriented, competent in Microsoft Word and Excel, self-starter, experience in theatre arts a plus.
Dates/Hours
Summer interns work full time and for a minimum of 6 weeks. Fall/Winter/Spring interns may work part time if desired for a minimum of 12 weeks, but one of the workdays must be Wednesday. Specific scheduling is arranged with the department supervisor.
Special Events
Interns are expected to work on large company special events such Opening Night Parties, the annual dinner Auctions, or large patron events.

APPLICANTS SHOULD SUBMIT:
Application Form
Cover letter
Resume
Letter of recommendation
Writing sample

APPLICATION INFORMATION

Applications are considered as they are received.

Required materials (listed below) should be submitted online or sent to:

PacRep Internships
P.O. Box 222035
Carmel, CA 93922.

The completed application form
A cover letter describing your interest in this program
Your resume
One or more letters of recommendation from those who have supervised your work
Writing samples or portfolios are required for some internships
Please review the detailed information for your area of interest
Email and/or telephone inquiries are welcomed.
Call Stephen Moorer, Executive Director at 831-622-0700 x104 or send email to
contact@pacrep.org