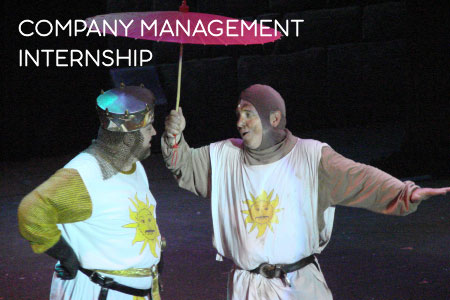 PacRep employs visiting Equity and guest artists, directors and designers on a seasonal basis. Company management internships provide the opportunity to be involved in the day-to-day details of the Acting Company's professional lives – details pertaining to their work at PacRep Theatre. This includes activities relating to travel, housing, special needs and working to integrate artists into PacRep and the surrounding community. This internship will not lead to performance opportunities. Applicants should have theatrical experience, be able to work effectively with people and be well-organized. Knowledge of general office skills is helpful. Energy and creative problem-solving skills are essential. Recommended for students who are interested in pursuing a career in Theater Administration.
CLICK HERE FOR THE APPLICATION FORM
Responsibilities
Depending on individual production needs responsibilities may include but are not limited to:
Phone/email/other communications to artists and staff
Errands in support of the artistic personnel, including some personal shopping and duties
Assist Company Manager with housing and transportation needs
Photocopy and distribute schedule and calendar updates
Assist with Cast Parties and Artist promotional appearances.
Experience/Background Requirements
Exceptional organizational skills required
Ability to multi-task under pressure
Competence with Microsoft Word and Excel a plus
Background in Theatre a plus
Special Issues
Due to the flexible hours, and duties, company management interns must own or have access to their own car.
Dates/Hours
Hours and dates are by arrangement with the Company Manager. Including some pre-production meetings and preparations, most internships run five to six weeks in length.
Special Events
Interns are expected to work on large company special events such as Opening Night parties, the Special Event auctions, or other large patron events.


APPLICANTS SHOULD SUBMIT:
Application Form
Cover letter
Resume
Letter of recommendation

APPLICATION INFORMATION

Applications are considered as they are received.

Required materials (listed below) should be submitted online or sent to:

PacRep Internships
P.O. Box 222035
Carmel, CA 93922.

The completed application form
A cover letter describing your interest in this program
Your resume
One or more letters of recommendation from those who have supervised your work
Writing samples or portfolios are required for some internships
Please review the detailed information for your area of interest.
Email and/or telephone inquiries are welcomed.
Call Stephen Moorer, Executive Director at 831-622-0700 x8104 or send email to
contact@pacrep.org