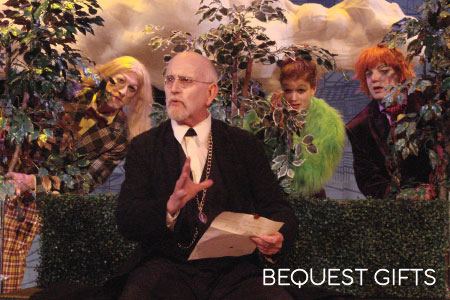 Without the support of our generous circle of givers, PacRep Theatre could not withstand the "whips and scorns of time."

What is a Bequest?

A bequest is probably the most popular method of planned giving. You make a bequest through your will or living trust. Both of these are legal documents that direct how your property will be used and distributed after your lifetime. A bequest can be stocks or bonds, mutual funds, real estate, cash, or any other asset of value.

When should a Bequest be considered?

One common situation when a bequest is particularly appropriate is when someone wants to support PacRep but is unsure if he or she will have need of that financial resource during his or her own lifetime. A bequest only comes into being if you pass on with remaining assets.

What are the advantages of a Bequest?

The advantages are:
Does not reduce your current income or jeopardize your ability to sustain yourself financially while you are alive.
Enables you to provide a substantial future support to a cause that is important to you.
May reduce estate taxes (depending upon the size of your estate).
This gift is revocable, which means you can change your mind at any time.
Membership in the Encore Circle, the community of PacRep supporters who have made similar provisions in their estates.
What are the different ways a Bequest can be structured?

Bequests can be as flexible and creative as the donor wishes. Some common forms of bequests are:
A specific dollar amount or property item (such as real estate)
A percentage of your estate
The residual of your estate after all other bequests have been satisfied
---
To discuss a contribution or show sponsorship, or to find out more about PacRep Theatre's planned-giving program, please call Executive Director Stephen Moorer or Development Executive John Newkirk at 831.622.0700.
---
---
How to include Pacific Repertory Theatre in my will:
Donors may make charitable gift by naming Pacific Repertory Theatre as a beneficiary in their wills. The federal government encourages these gift or bequests, by allowing an unlimited estate tax charitable deduction. In addition, a charitable bequest may place your estate in a lower estate tax bracket.
To make a bequest to Pacific Repertory Theatre, the following language will be helpful to your lawyer:
I give, devise, and bequeath to Pacific Repertory Theatre the sum of _____________ (or otherwise describe the gift or specify a percentage of the estate).
There are three ways you can make a bequest:
Specific Bequest: You designate a specific dollar amount, specific percentage, or specific property to Pacific Repertory Theatre.
Residual Bequest: Your estate will pay all debts, taxes, expenses, and specific bequests. The remaining amount -- the residual -- will be transferred to Pacific Repertory Theatre.
Contingent Bequest: You can ask that Pacific Repertory Theatre receive all or a portion of your estate only under certain circumstances. For example, you can name Pacific Repertory Theatre as a beneficiary of your estate only if there are no surviving close family members. Childless couples sometimes provide for the entire estate to go to the surviving spouse, or if the spouse does not survive, to Pacific Repertory Theatre.
We make no claims regarding the accuracy of the above information or the tax consequences stemming from your use of it. Please consult with your own tax, legal, or financial planning advisor.