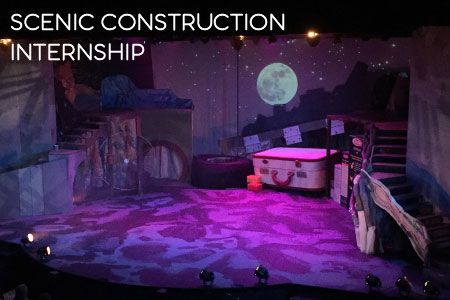 PacRep mounts 9 to12 stage productions each season. The scene shop maintains two full time permanent staff members and hires additional contract carpenters and technicians as needed throughout the season. The number of internships available varies from one to four per season depending on production needs. Design internships are not offered. Recommended for students interested in scenic construction or scenic design for the stage.
CLICK HERE FOR THE APPLICATION FORM
Responsibilities
Assist staff and overhire carpenters in all areas of scenic construction, and in the maintenance of a clean, productive shop environment. Interns will not be expected to do tasks that are not already part of the staff/overhire workload. As the intern's work quality and speed is evaluated through the early part of the internship, additional responsibilities and independent project assignments may be available. Interns are encouraged to be proactive and vocal about specific areas of interest and where possible, will be given opportunities for exposure in these areas.
Skills Requirements
Experience with larger power tools (table saws, radial arm saw, drill press, etc.) required
Two or more years using these items in theatrical applications preferred
College level training in related fields preferred (construction, carpentry, welding, mechanical engineering, etc.)

Special Issues

PacRep scene and props shops are subject to temperature swings and dusty conditions. Those with severe allergies may not be comfortable in this work environment.


Dates/Hours

Summer interns work full time and for a minimum of 6 weeks. Fall/Winter/Spring interns may work part time if desired for a minimum of 12 weeks. Specific scheduling is arranged with the company technical director.


Special Events

Interns are expected to work on large company special events such Opening Night Parties, the annual dinner Auctions, or large patron events.


APPLICANTS SHOULD SUBMIT:
Application Form
Cover letter
Resume
Letter of recommendation

APPLICATION INFORMATION

Deadlines

Summer

Applications received by March 15 receive first priority for placement, however applications will be accepted through May 15 or until all positions are filled.

Fall/Winter/Spring

Applications are considered as they are received.

Required materials (listed below) should be submitted online or sent to:

PacRep Internships
P.O. Box 222035
Carmel, CA 93922.

The completed application form
A cover letter describing your interest in this program
Your resume
One or more letters of recommendation from those who have supervised your work
Writing samples or portfolios are required for some internships
Please review the detailed information for your area of interest
Email and/or telephone inquiries are welcomed.
Call Stephen Moorer, Executive Director at 831-622-0700 x104 or send email to
contact@pacrep.org