PacRep supplies the venue and the show – and your group has a great event.

Raise money for your cause, with minimal impact on your organization!
Steep Discounts for Fundraising Events!

Theatre Parties, small and large!
Groups as small as 20, or as large as 500 - Throw the perfect party or fundraiser for your favorite group or non-profit organization!
You pay a reduced price for a group of seats to our plays and musicals, and then sell those seats for as much as you want!
Return unsold tickets according to our policy and get full credit, making the event "no risk".
Bring your own (donated) food and decor for a pre-show reception, and you have a profitable event that is easy to stage.
This is also a great way to celebrate a special occasion, or treat your employees or co-workers to a very special night out!
Offer applies to all PacRep venues -
The 300-seat GOLDEN BOUGH, 99-seat CIRCLE THEATRE, and the 540-seat OUTDOOR FOREST THEATER!
Group Sales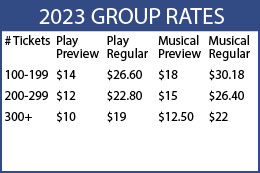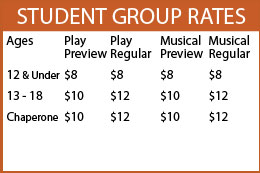 Single Show Gift Certificates for future productions are always available at the PacRep Box Office.

Package holders receive a variety of exciting benefits:
Discounts up to 20% off our general ticket prices

Your choice of shows, dates and times

Schedule your dates annually or show-by-show

Reserve the Best Seats for the entire year

Advance notice of promotions and special events

NO Exchange Fees. Ever.
PacRep's Box Office is currently located at the Indoor Forest Theatre
(831)-622-0100, or by fax at (831)-622-0703
The Box Office is located on Mountain View Ave. and Santa Rita St., Carmel-by-the-Sea, California.

New Box Office Hours: Tuesday through Saturday, 11:00am - 4:00 pm.

NOTE: To obtain the many benefits offered by ticket packages, only one package may be ordered at a time.
This will then allow each patron to obtain a Patron ID and the flexibility to exchange tickets at the Box Office.
20/20 Discount - Purchase a block of 20 or more tickets and receive a 20% discount on your entire order!
Or...Buy all or part of 'the House' and get 25% - 50% off! The perfect fundraiser or company party!
Call t
he Box Office
at 831-622-0100 for details.
*Groups of 100+ require a 10% minimum deposit.
For more information, Contact Cindy Womack at 831-622-0100
Program Details & Examples
Looking for an easy way to raise funds for your favorite non-profit organization?
PacRep's "Theatre Party" program is the opportunity you are looking for! It's Easy as 1,2, 3!
1 - Reserve 100-500 tickets for the performance of your choice
We will advance your group a specified number of deeply discounted theatre tickets. You sell as many tickets as you can,
return the unsold tickets according to our policy, and receive full credit.
By following our simple procedures, your group can have a "no risk" event!
2 - Arrange for refreshments for a "pre-show party"
Many groups find that a "pre-show" reception is easy to stage and lucrative to the bottom line,
since it allows you to add a reasonable surcharge to the regular ticket price.
Most groups find that (using their own resources) donated refreshments can often be obtained, making the net income even larger.
Pre-show parties begin at 6:00pm (heavy hors d'oeuvres) or 6:30pm (light refreshments), prior to the 7:30 curtain.
3 - Sell those tickets to your group and your supporters
Deep Discounts for Theatre Parties:
Groups of 100+ receive a 30% discount!
Groups of 200+ receive a 40% discount!
Groups of 300+ receive a huge 50% discount!
Example 1:
$75 fundraiser; with wine & light refreshments. 300 Guests.
Expenses: 300 tix x $22 each = $6,600.
Invitations/Advertising = $2,000
Refreshments/Decorations = $3,000 (or donated)
Total Expenses = $11,600
Income: 300 x $75 = $22,500
Net to your organization = $10,900
Example 2:
$50 fundraiser; no (or donated) refreshments. 200 Guests.
Expenses: 200 tix x $26.40 each = $5,280.
Invitations/Advertising = $1,000
Refreshments/Decorations = $0 (or donated)
Total Expenses = $6,280
Income: 200 x $50 = $10,000
Net to your organization = $3,720
Seating Chart for Golden Bough Remodel:
Interested?
Call 831-622-0100 and ask for Cindy!