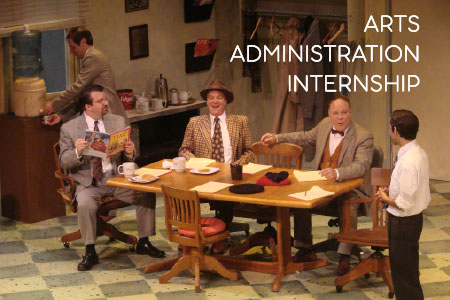 More than any other area of arts administration, development internships provide insight into the structure and management of a non-profit arts organization. This department is responsible for generating approximately 40% of the organizational budget. Development Staff work closely with the board of trustees and the marketing and finance departments.
Interns are included in departmental meetings and strategy sessions.
Recommended for those interested in management careers in the non-profit sector or producing.
CLICK HERE FOR THE APPLICATION FORM
Responsibilities
Support the Executive Director and Development staff through special events, donor cultivation, stewardship, and fundraising. Tasks include, but are not limited to:
Research and writing for quarterly newsletter, annual report, and other related publications
Research for institutional and individual giving resources
Support in-house or offsite mailing procedures
Track and process RSVPs for special events
Transfer of event materials between event site and storage space
Maintain inventories for printed material and event supplies
Communications with donors and volunteers
Maintain photo archives and scrapbooks of development events
Upkeep institutional and individual donor files
Data management in Development database
Telemarketing and Sales
Skills

A creative eye, excellent communication skills (writing, phone, and event presentation), detail oriented, ability to work effectively with volunteers, computer savvy in Microsoft Word and Excel (not required), experience in theatre arts a major plus.


Dates/Hours

Summer interns work full time and for a minimum of 6 weeks. Fall/Winter/Spring interns may work part time if desired for a minimum of 12 weeks and a commitment to a schedule of at least fifteen hours per week. Specific scheduling is arranged with the Executive Director.


Special Events

Interns are expected to work on large company special events such Opening Night Parties, the annual dinner Auctions, or large patron events.


APPLICANTS SHOULD SUBMIT:
Application Form
Cover letter
Resume
Letter of recommendation
Writing sample

APPLICATION INFORMATION

Applications are considered as they are received.

Required materials (listed below) should be submitted online or sent to:

PacRep Internships
P.O. Box 222035
Carmel, CA 93922.

The completed application form
A cover letter describing your interest in this program
Your resume
One or more letters of recommendation from those who have supervised your work
Writing samples or portfolios are required for some internships
Please review the detailed information for your area of interest
Email and/or telephone inquiries are welcomed.
Call Stephen Moorer, Executive Director at 831-622-0700 x104 or send email to
contact@pacrep.org