Built in 1910, the historic Outdoor Forest Theater is a 540-seat amphitheatre located on Mountain View Avenue and Santa Rita Street,
in Carmel-by-the-Sea. The stage is framed by towering pines and huge open fireplaces, providing a majestic backdrop for the plays and
musicals presented by Pacific Repertory Theatre.

Every August and September, PacRep presents an annual family musical, followed by the annual Carmel Shakespeare Festival in October.
Outdoor Forest Theater
PARKING
The Outdoor Forest Theater is located in the middle of a residential neighborhood. There is a limited number of spaces available on property, as well as parking on the street, both which are free. There are a limited number of handicap parking spaces located on property. We recommend patrons come a little early, and take care not to block any driveways. For more information on our location, please see Directions.
AUDIO
PacRep Theatre has audio amplification headsets available to assist patrons who have hearing difficulties.
FOOD AND DRINK
PacRep offers concessions at all three venues including cookies, candy, coffee, tea, soft drinks, water and wine. Eating and drinking is welcomed in all auditoriums. If you are attending performances at the Outdoor Forest Theater, patrons are welcome to bring in a picnic lunch or dinner. We encourage our patrons to visit local eateries in the community to pack their picnic basket, or take in a meal before or after the show.

DOGS
Only licensed service animals are allowed into the venue. A printed license must be presented to show Box Office personnel.
CONTACT US
If you need further information, please contact us by email at
contact@pacrep.org
or call 831-622-0100.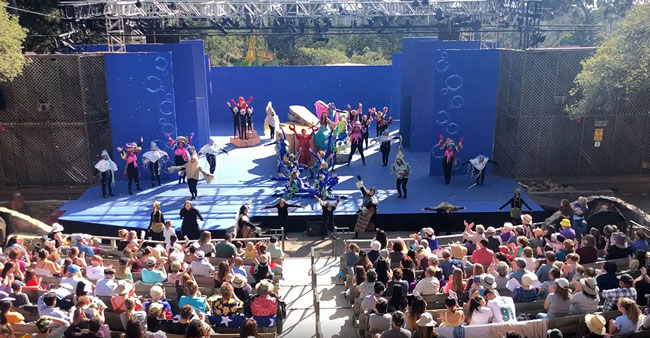 Under the Sea from PacRep's production of Disney's The Little Mermaid (2018)
PacRep's The Comedy of Errors (2008)