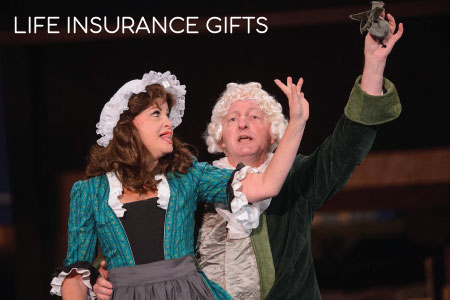 The spirit of Bohemia and the ancient art of Patronage have long been intertwined. Kings and emperors, lords and ladies, and citizens of wealth and power generously supported the creative process of poets and writers, painters and sculptors, actors and musicians. The 'grand tradition' continues today...

Without the support of our generous circle of givers, PacRep Theatre could no withstand the "whips and scorns of time." We thank the following individuals, without whom our community would lament the loss of so many of our treasured historic and cultural resources.

What is a Life Insurance Gift?

This is one of the easiest planned gifts to make. You simply name PacRep as the beneficiary of your existing life insurance policy.

When should a Life Insurance Gift be considered?

People usually purchase life insurance as a way to protect their families should an income provider unexpectedly die. After you stop working or your family is grown, the need for life insurance often disappears. Many of these policies are very valuable and either have very low premiums, or are self funding.

What are the advantages of a gift of life insurance?

The advantages are:
Easy to set up and change, simply contact your life insurance company and request of change of beneficiary form.
Does not reduce your current income or jeopardize your ability to sustain yourself financially while you are alive.
Enables you to provide a substantial future support to a cause that is important to you.
May reduce estate taxes (depending upon the size and structure of your estate).
This gift is revocable, which means you can change your mind at any time.
Membership in the Encore Circle, the community of PacRep supporters who have made similar provisions in their estates.
---

To discuss a contribution or show sponsorship, or to find out more about PacRep Theatre's planned-giving program, please call Executive Director Stephen Moorer or Development Executive John Newkirk at 831.622.0700.

---

Some of our supporters no longer need their life insurance that was purchased years ago to provide for children or other family members. If that is your situation, please consider donating the policy to Pacific Repertory Theatre. You may claim a charitable deduction for approximately the policy's cash surrender value, and the proceeds are completely removed from your estate.

We make no claims regarding the accuracy of the above information or the tax consequences stemming from your use of it. Please consult with your own tax, legal, or financial planning advisor.