2021 TicketPACS for PacRep's season at the Outdoor Forest Theater are here!
Or buy a Gift Certificate that is good forever!

TicketPAC holders receive a variety of exciting benefits:
Discounts up to 20% off our general ticket prices

Your choice of shows, dates and times

Schedule your dates annually or show-by-show

Reserve the Best Seats for the entire year

Advance notice of promotions and special events

NO Exchange Fees. Ever.

Available now at the PacRep Box Office
(831)-622-0100, by fax at (831)-622-0703; or, in person at the Indoor Forest Theatre, Mountain View Ave. and Santa Rita St., Carmel-by-the-Sea, California.
Tuesdays thru Saturdays, 11:00am - 4:00 pm.

NOTE: To obtain the many benefits offered by a TicketPAC, only one TicketPAC maybe ordered at a time. This will then allow each patron to obtain a Patron ID and the flexibility to exchange tickets at the Box Office.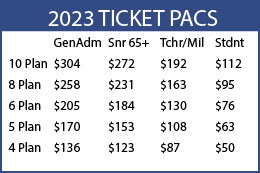 20/20 Discount - Purchase a block of 20 or more tickets and receive a 20% discount on your entire order!

Or...Buy all or part of 'the House' and get 25% - 50% off! The perfect fundraiser or company party!
Call the Box Office at (831) 622-0100 for details.